ENTERTAINMENTS | NEWS | CELEBRITY NEWS | CELEBRITY LIFE |CELEBRITY GOSSIPS | BEAUTY | EVENTS | LIFESTYLES..
Saturday, October 31, 2015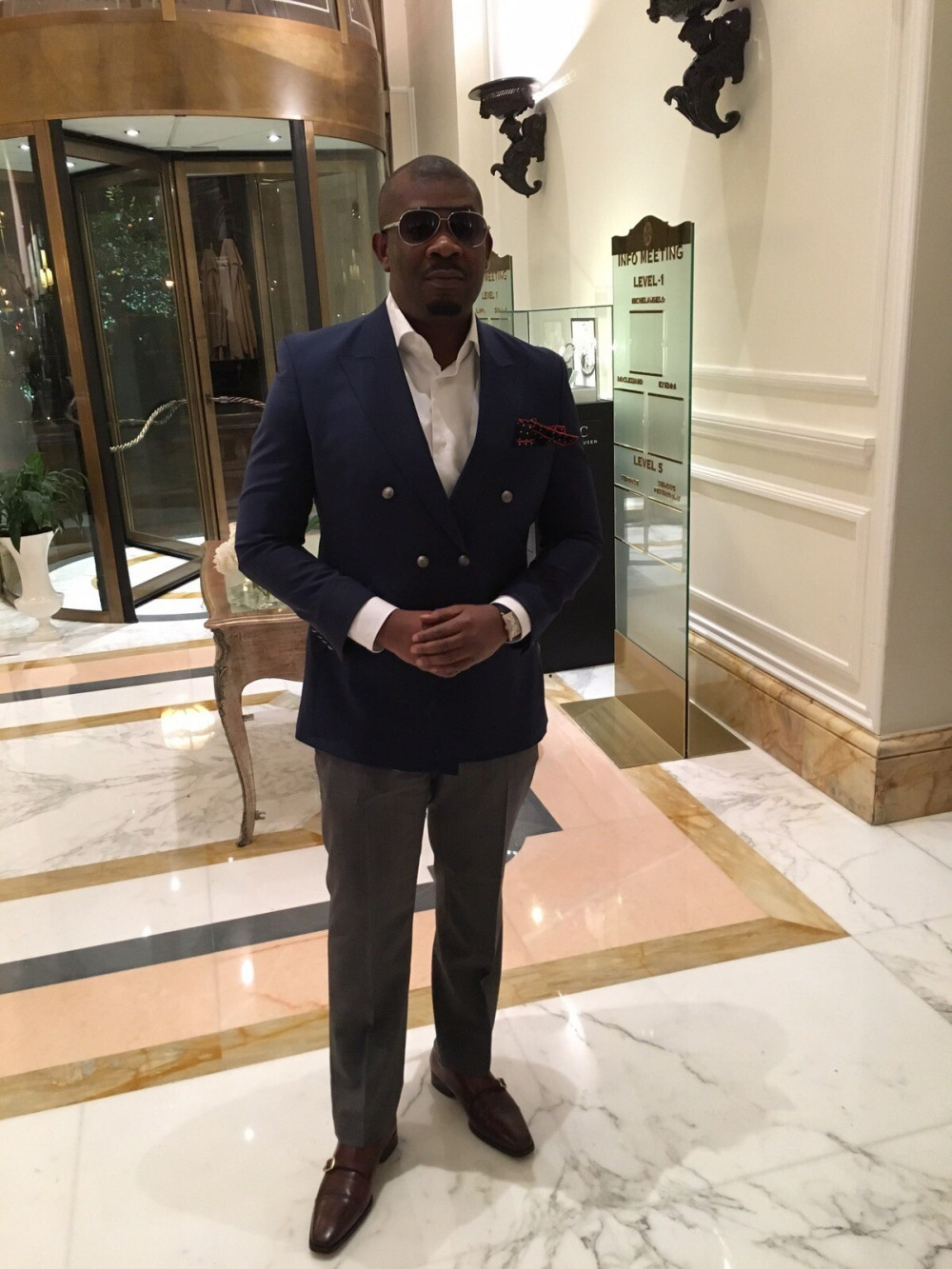 The Mavin Records executive made an appearance at the 
"Gentle Man's Wager II" Welcome Cocktail
 in Rome as preparations have begun for an exciting weekend where "Gentle Man's Wager II" will be premiered.Feeling very much like the man of the moment, the Johnnie Walker ambassador was also spotted with the head of Diageo Reserve,
 Joe Nazzal
 as they posed for a picture with the famous Johnnie Walker Blue Label whiskey.
Friday, October 30, 2015
Luxury fashion retail entrepreneur Abisola Kola-Daisi welcomed her third child two weeks ago. She recently shared a photo of her newborn in the arms of her husband. Congrats to them.
The PDP says that the confirmation of former Rivers state governor, Rotimi Amaechi as a minster of the federal republic of Nigeria, has put a dent on APC's "pretentious war against corruption". The National Publicity secretary, Olisa Metuh said this after an extraordinary meeting with top PDP officials in Abuja yesterday night.
While addressing newsmen after the meeting, Olisa commended PDP senators for staging a walkout before Amaechi's confirmation. "We salute the courage and unity of purpose of our Senators, especially as demonstrated in the Senate chambers today in their collective stand against impunity and corruption in line with the wishes and aspirations of Nigerians".
The Abuja division of the court of Appeal has dismissed the appeal filed by senate president, Bukola Saraki challenging his trial by the Code of Conduct Tribunal. The appeal court dismissed all 5 issues raised by Saraki in the appeal. Two of the three panel of judges ruled that his appeal lacks merit. This implies that the Code of Conduct will still go ahead with Saraki's trial.
Saraki is being tried on a 13 count charge of false asset declaration when he was Kwara state governor. He is expected to appear before the Code of Conduct Tribunal on November 5th.
Modal Trigger
While 
Lamar Odom
 continues to recover in a Los Angeles hospital, Khloé Kardashian is keeping the ball rolling in her relationship with 
James Harden
.
Kardashian, 31, reportedly took a break from being at Odom's bedside to support her boyfriend and NBA star Harden, 26, on Wednesday night.
According to E! News
, Kardashian and Harden haven't broken up — despite the starlet spending copious amounts of time with her ailing husband, 35.

Khloe Kardashian is honestly just giving us so many reasons to love her lately, and it's overwhelming, it really is. We hate that Lamar Odom's health crisis was the thing that made her supreme strength and grace so evident to us, but now that we've seen it, we're pretty much on this girl's team for life. And that's why it hurts us so much to hear her say things like this:
The hosts of "The Talk" went all out for Halloween this year, transforming from daytime talk show hosts into their favorite singing divas.
The "Roseanne" alum had the most dramatic makeover as she hit the stage as Celine Dion. From the glamorous makeup to the long brunette wig, Sara looked strikingly similar to the "Power of Love" songstress.
Gilbert even belted out a few songs for the audience as she took on her cohosts in an epic lip sync battle!
Kylie Jenner
and
Tyga
looked more like a copycat version of
Kim
and
Kanye
in the Big Apple.
Kylie's not exactly coy about jacking her older sister's style. The photo on the left of Kylie and her BF was snapped Wednesday night, while the photo on the right of Kim
and her hubby was taken in April.
The similarities are numerous. Let us know if we missed any ...
1) black shades
2) hair parted down the middle
3) chic coat
4) rapping significant other dressed in a black hoody and shielding you from the paparazzi
Lamar Odom
has made a shocking turnaround ... his kidney's have improved so much he'll be off 6 hours of daily dialysis and he won't need a kidney transplant ... TMZ has learned.
We're told the big hurdle for days has been Lamar's kidneys and they've responded so well in the last 48 hours they've moved him from the ICU where he was getting dialysis in a private room.
Doctors told Lamar
his kidney problems
were life-threatening, and they told him they're surprised at the dramatic improvement.
Lamar is on the floor where hospital staff performs physical therapy. We're told Lamar's motor skills are impaired from the strokes, and he'll undergo increasingly rigorous therapy to regain function.
We're told the
Kardashians
are happy about the news, with one big caveat ... Lamar's now able to make his own decisions, and
he hasn't necessarily chosen wisely
during the last few month.
Orente Ayaba
 did a wonderful job showcasing at the New York Fashion Week as well as the London Fashion Week but we were still pretty eager to see her showcase her pieces at the 
Heineken Lagos Fashion & Design Week
.
The Spring/Summer 2016 collection was an array of bright and colourful pieces with stylish geometric prints and designs and eye-popping patterns.
It was definitely a fun and wearable collection.
Check it out below.
Vice president, Yemi Osinbajo yesterday said that further devaluation of Naira was not an option to solve the current economic down turn in the country.
He talked about the Federal government's plan to set up a $25billion  Infrastructural Fund which would be sourced from local and international sources including Nigeria's Sovereign Wealth Fund.
the Ambassadors of Italy Mr. Fulvio Rustico and the Canadian High Commissioner in Nigeria Mr. Perry John Calderwood in his office at the presidential villa, Abuja.
Modal Trigger
Comic Judy Gold dared to train her sights on Caitlyn Jenner, who will add Glamour magazine's Woman of the Year award to her recent accolades.
"I don't like the fact that we cannot make fun of Caitlyn," said Gold at the Tomorrow Is Tonight Gala benefiting Project ALS, adding, "People are so overly sensitive now."
Modal Trigger
Victoria Beckham, billionaire entrepreneur Elizabeth Holmes, Planned Parenthoood's Cecile Richards and the women's FIFA soccer Team USA round out the Class of 2015, announced Thursday. They will be honored at a gala on Nov. 9 at Carnegie Hall.
Modal Trigger
Jennifer Lopez is getting amped up for her 2016 Vegas residency at Planet Hollywood.
"I want it to be a high-energy, Bronx kind of block party," she
tells Ocean Drive Magazine
. "The most exciting shows make you dance, and scream, and jump up and down. I want people to really let loose . . . I want the show to be always changing, so it's a unique experience every time — one night a Selena song, and another maybe something by Diana Ross."
She's also getting costume cues from some serious divas. "It's like a fantasy. When you think of Diana Ross, Cher or Barbra Streisand, it's their costumes that became their signature," Lopez figures.
Lamar Odom
is doing well enough that he's making his own decisions at the hospital, including who gets in to visit him -- so
Khloe Kardashian
had nothing to do with his dad getting turned away.
Our sources tell us Lamar's recovery has progressed to the point that he is communicating with doctors and fully participating in decisions about his treatment. We're told that's why Khloe finally decided to leave the hospital a few days ago.
As for what went down when
Joe Odom
went to the hospital -- we're told Khloe was not even there at the time ... so, if anyone
blocked Lamar's dad
, it was most likely Lamar himself.
Taylor Swift is getting candid about her love life.
The songstress has had her fair share of high profile romances which often become the subjects of her hit songs ... although she never names names.
In a recent interview with 
GQ magazine
, the 25-year-old opens about the relationship that inspired her hits 
"Style"
 and 
"Out of the Woods"
, which many presumed were about 
One Direction's
Harry Styles
.
"The number one feeling I felt in the whole relationship was anxiety," she revealed. "Because it felt very fragile, it felt very tentative. And it always felt like, 'Okay, what's the next road block? What's the next thing that's gonna deter this? How long do we have before this turns into just an awful mess and we break up? Is it a month? Is it three days?"
You know it, she knows it,
Amber Rose
is selling copies of her book Bad Bitch with the help of her two large chesty friends. I'm not sure what the pages of the book reveal about the nature of human existence, but I'm certain whoever penned it for Rose added some swell inspirational memes and slogans. The point being, Amber Rose is inspiring by way of her curvaceous body and I'm not sure you can learn how to repeat that with the guidance of the written word.
Modal Trigger
Justin Bieber is making a habit of walking away.
The "Sorry" singer bolted off stage in the middle of a TV performance in Oslo on Wednesday night.
A fan spilled something on the stage and he attempted to wipe it up, but his overzealous followers wouldn't allow him.
"Yo, yo, yo, what are you doing? Stop it," he said as he tried to clean the mess, "Come on. I said stop it. Yo, what are you doing, stop it. Guys! Yo, listen to me. Are you listening? Okay, I'm trying to wipe the floor. Give me a second yo.
Madonna and Sean Penn continue to spark buzz of a rekindled romance after sources told Page Six they were seen hanging out at Shutters on the Beach in Santa Monica, Calif., this week.
Kendall Jenner's got some pretty impressive dance moves!
The supermodel appears in a new video for Balmain's new H&M collaboration -- and stuns in the futuristic campaign as she rocks the fashion house's bold designs.
The video, titled "The Kendalls," takes place in a high-tech subway station and features the 19-year-old not only strutting her stuff, but also breaking it down in a dance battle while on a train.
Modal TriggerGabrielle Union

 

celebrated her 43rd birthday while watching hubby

 

Dwyane Wade

 

at American Airlines Arena in Miami on Wednesday.
Union was spotted having dinner at arena lounge Hyde before the game, then had a postgame celebration at the spot after her hubby's Heat won.
The Grammy award-winning singer took to 
Instagram
 on Wednesday to share a sweet throwback photo in celebration of her single
"Hello's"
 success.
"Throwing it way back with this! Thank you for all the love, I am so blown away. X #TBT," she captioned the cute candid.
The soccer stud took to 
Instagram 
on Wednesday, to show off the latest addition to his ever-expanding collection of sentimental tattoos.
Beckham proudly flaunted his new ink in the snap, as he posed with his hand to the camera and his 4-year-old daughter Harper'sdesign etched in black ink on his palm. 
Thursday, October 29, 2015
Mariah Carey and James Packer are still in the honeymoon phase!
The pop star, 45, and her billionaire boyfriend, 48, cozied up to each other on the red carpet at the grand opening of his new Studio City casino in Macau, China on Tuesday.
The "Emotions" singer stunned in a plunging black gown with crisscrossed ties across her cleavage as the Australian businessman looked dapper in a black tuxedo.
North West couldn't contain her excitement as she made her way to a ballet class with her nanny while out in Los Angeles on Wednesday.
Kim Kardashian's little girl looked like a mini-fashionista as she skipped along in a cream leotard, matching tutu and a tiny khakiBalmain blazer. The two-year-old kept her curly hair in a high top knot and accessorized with a huge grin!